Akipunture, the gambian reggae from Brikama
ABDU MBYE was born in Bakau on November 7, 1991 and grew up in Brikama where he still lives.
Akipunture is traditionally from a Griots family, with a cora player grandfather, Abdu evolves in the musical world.
Among his relatives another famous singer, Jizzle.
His personal and cultural predisposition to compose music, directs him, rather than traditional Gambian music, to reggae.
His first public exhibition took place during a Free Style street show, which in native language is called « Fural« , in Brikama (2007).
As an artist, he takes the name of « Akipunture« , inspired by the practice of acupuncturists, because he defines himself as a « pricker » of music, spreading a sharp message.
Inspired by the famous Jamaican singers, Anthony B and Natural Black, he embarked on his production and recorded his first song « Mama « , in 2005 at Brikama (Daina Yard Studio).
Regarding the Gambian music scene, he operates within the Frontline Crew, of which Benjamin is the most famous member.
From their strict collaboration, two excellent songs « Wine ur waist » and « The Savior« .
Akipunture is very active in the Gambian musical world, as evidenced by his numerous collaborations with other artists from the
smiling coast, such as D. Prince, or his participation in the line up of most gambian riddims (« Pum Pum Riddim« , Multi Records,  » One day Riddim « , Multi Records etc.).
His choice to sing in English is motivated by the desire to spread her message on a large scale which preaches love, peace, unity, legal equality and which highlights the positive aspects of the ghetto.
Akipuncture is a complete artist, able to write both his lyrics and his own music.
Moreover, his level and artistic ductility are confirmed by his hit « Sinkiling«  of 2019 (« Black Power« , Multi Records, Kd Films), in which the artist takes up a new challenge and, at the same height of other Afro-Mandinka singers of the caliber of ST, he composes this Afro-dancehall hit.
Let's enjoy this artist on his soundcloud https://soundcloud.app.goo.gl/sgdsJ
Discographie
2007, « Mama« , (Daina Yard Studio)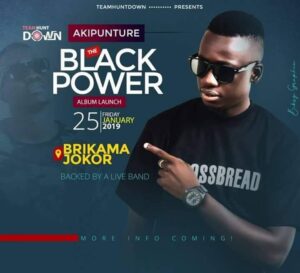 2015, « Savior » mixtape (6 tracks, launched in Brikama Jokor)
2016, « Not in a rush » (8 tracks), (Ghetto Boy Music)
2017, « Brikama is my home« , EP (4 tracks) (Stylzz)
2019, « Black Power« , (10 tracks + 2 extra) (Multi Records)
Akipunture's Gallery
Akipunture's Contacts